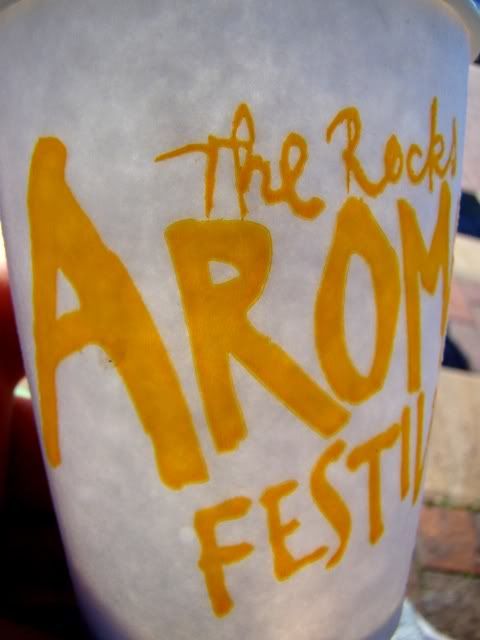 I have to admit, I'm a The Rocks Aroma Festival (henceforth 'TRAF') virgin. Well, not exactly a virgin, depends on how you look at it - let's just say that I went to 'second base' *wink wink* with TRAF last year. Okay. That's confusing - and rather disgusting. Anyway, last year, I didn't explore this fantastic festival thoroughly - just a sip of hot chocolate bought around the starting area of the festival. This year, I think it might be fun to explore and exploit around a bit.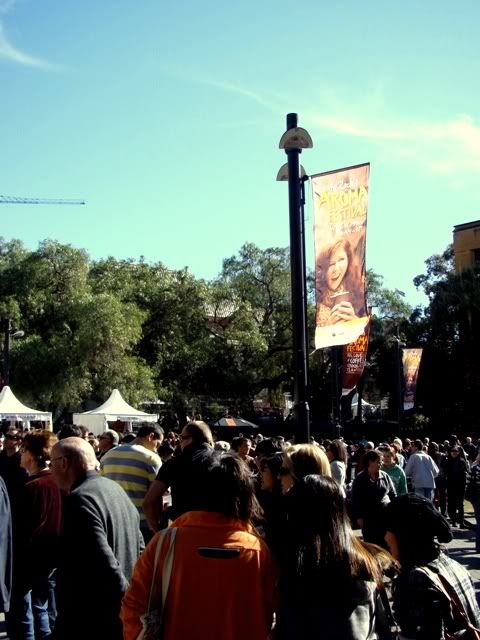 A wee bit of warning before ye proceed, though - this post is image-intensive. Probably the most images in a post in eatlikeacow history. But regardless, you have to see it all because taking these photos (plus editing, tweaking, and arranging them) was pretty laborious indeed! FYI, these photos are the result of selection from almost 400 photos I took yesterday. I know to most experienced bloggers and photographers this number is nothing (NOTHING!), but for me, it's a freaking nightmare. So, do enjoy!

Let's get to it, shall we.

Basic thing about TRAF for you foreigners and aliens joining us tonight: TRAF is a food festival dedicated to, well, aroma - more specifically, aromatic drinks and desserts such as coffee-based, chocolate-based, and tea-based products (yum yum).

The festival occupied most part of the touristy strip of Circular Quay from The Museum of Contemporary Art, stretching to the area around the Overseas Passenger Terminal, Campbells Cove, until the roundabout somewhere near / after the Park Hyatt. The festival is cleverly divided into four different "land" a la Disneyland-The Magic Kingdom kind of thing. Each "land" represents a geographical (and cultural) area of the world, namely: The Latin Quarter, The Continent, The Orient, and The Oasis.

Supposedly, each land contains stalls which offers food items pertaining to its name. E.g. The Orient district should contain stalls that sells Chinese teas, Japanese teas, etc. However, there are lots of irregularities everywhere. E.g. chocolate fudge stall located in The Orient district, etc. It's very annoying. Well, it's nothing big, really - it's just that the purpose of creating these "lands" are to make sure that visitors get the sensation of being whisked away from one continent to the other (again, a la Disneyland - God, I miss that place), and when they misplace stalls here and there, the sensation is just not there anymore. Anyhoo, let's grab our boarding pass and hop into the plane, 'cause the tour is about to start!



THE LATIN QUARTER
Erique's catchphrase: "¿Donde Esta la Biblioteca?"
(Where is the library?) - Spanish
*sorry - that's about all the Spanish I remember from my high school year...I'll do better for the other continents, I promise*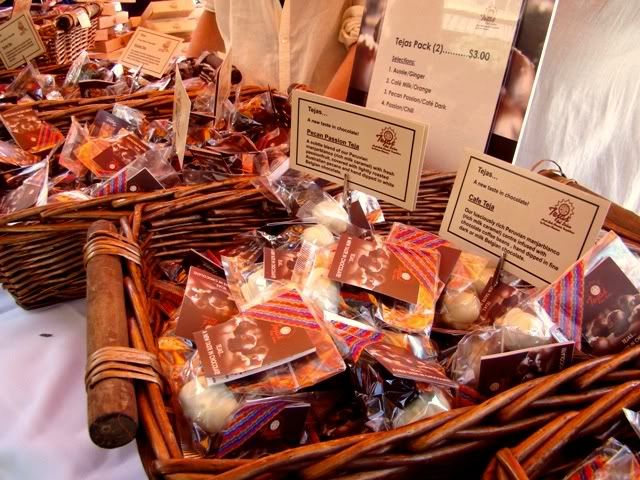 -> Various chocolate
Tejas
from Tejas Del Solar. This Peruvian confectionery is made from chocolates filled with
dulce de leche
and nuts. Gotta love Tejas.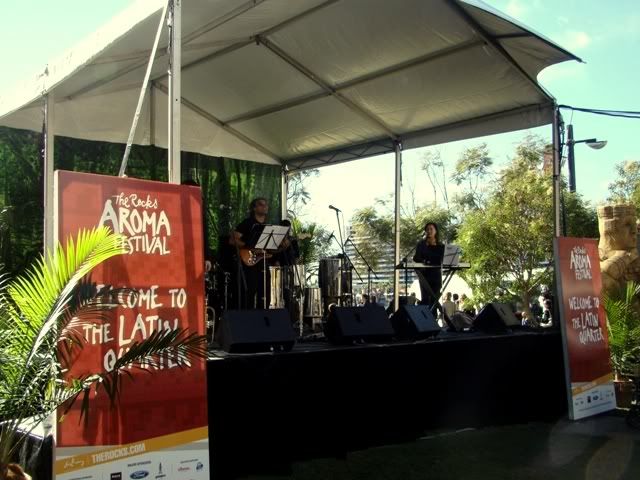 -> The entertainment in The Latin Quarter. Each "land" has its own stage and performers, which I think is a brilliant idea.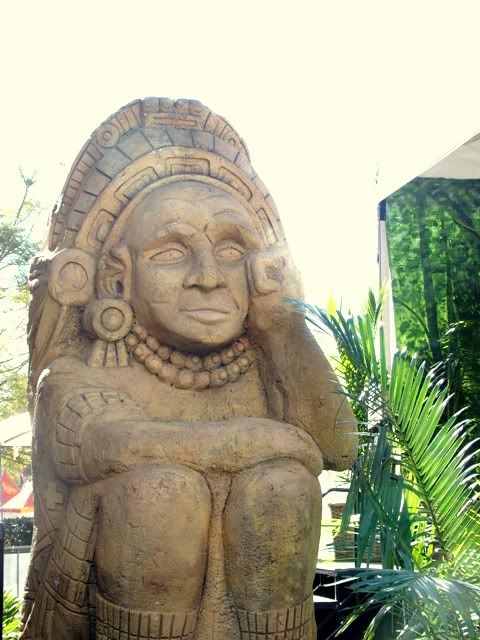 -> Authentic, ancient Mayan statue believed to grant the person who touches it fertility and potency. Nah, I'm kidding. I don't even know if this is Inca, Mayan, or Aztec (but I know tha it's made of an ancient, sacred substance known as Styrofoam).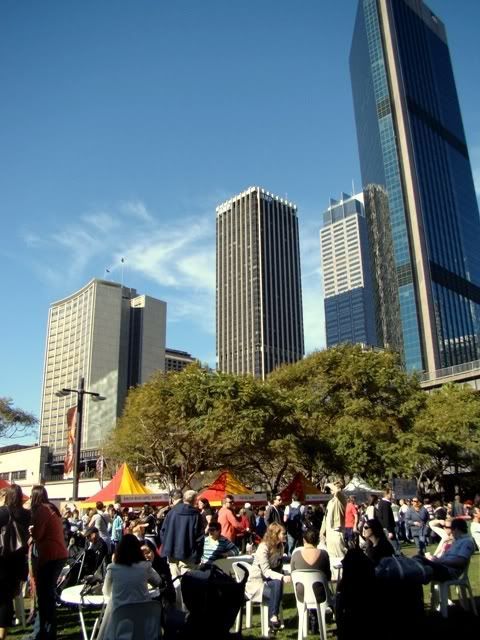 -> Crowd shot in the Latin Quarter. The festival started at 10 am and this photo was taken around 10.30 and look at all those people crowding the place already! I'm not a very outdoorsy person (okay, I lied. I hate the outdoors) and seeing these enthusiastic crowd enjoying the wonderful world of outside really makes me crave the air-conditioned, shady paradise that is my bedroom. (Sorry to be such a spoilsport)!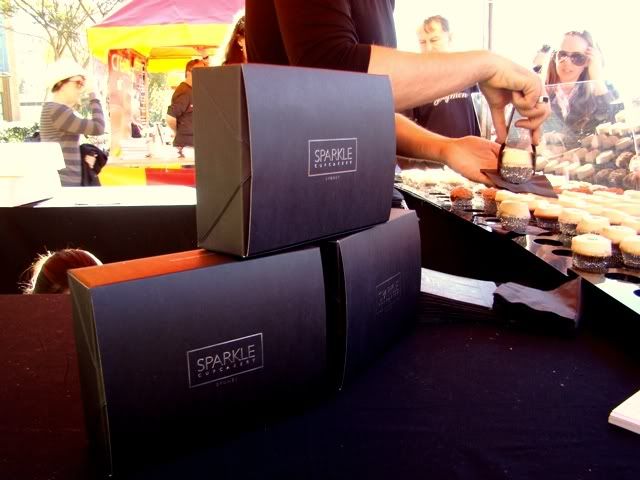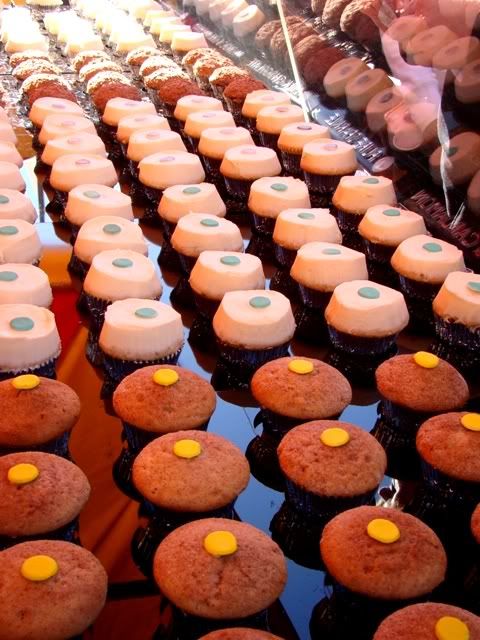 -> First cupcakes encounter - the
Sparkle Cupcakery
. Look at those stylish boxes! BTW, I encountered a LOT of cupcakes on the festival - they should call this thing The Rocks Cupcake Festival)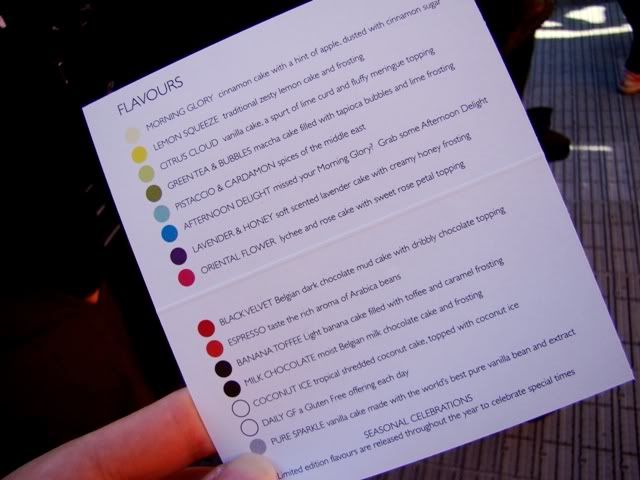 -> The
Sparkle Cupcakery
menu + color scheme. Wow.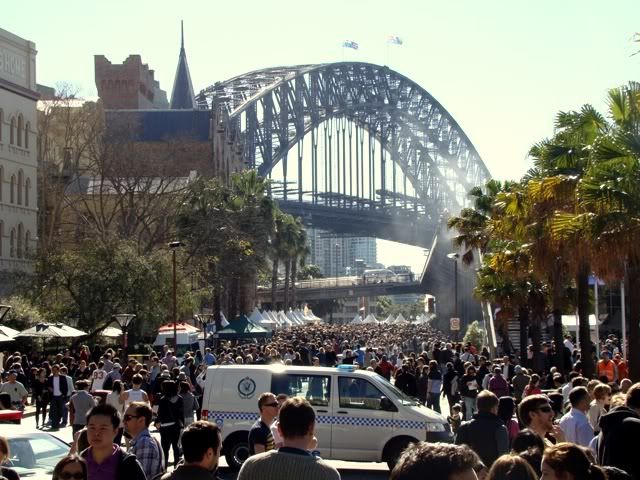 -> Another crowd shot *stupid police car is in the way*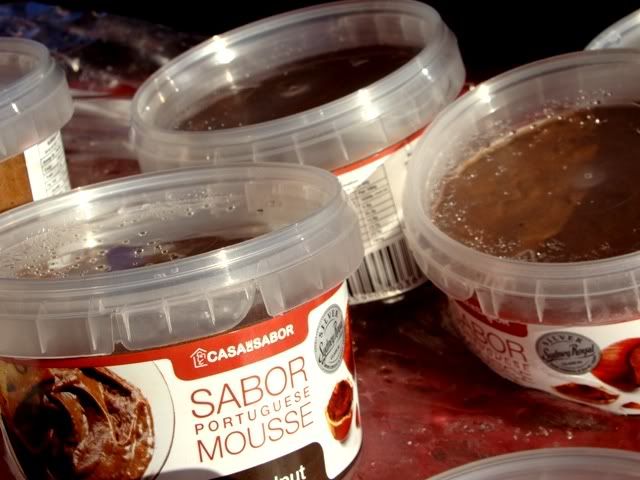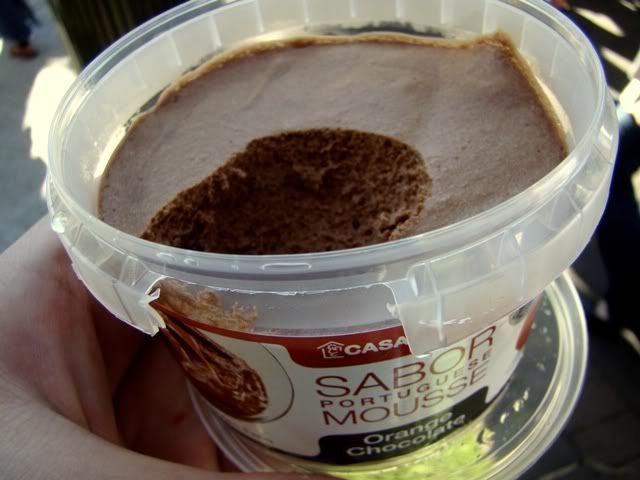 -> First bounty:
Casa Sabor Portuguese Orange Chocolate Mousse
. It's cream-free (can you believe it?!) For me, this is exactly my perfect kind of mousse - not too sweet, light & airy, and intense in flavor. I'm not actually sure what made this thing Portuguese, though. LOL
THE CONTINENT
Erique's catchphrase: "hor auf, so laut in dieser nervigen sprache zu reden"
(please stop talking loudly in that annoying language!) - German
*isn't it annoying when someone does that?? Really!*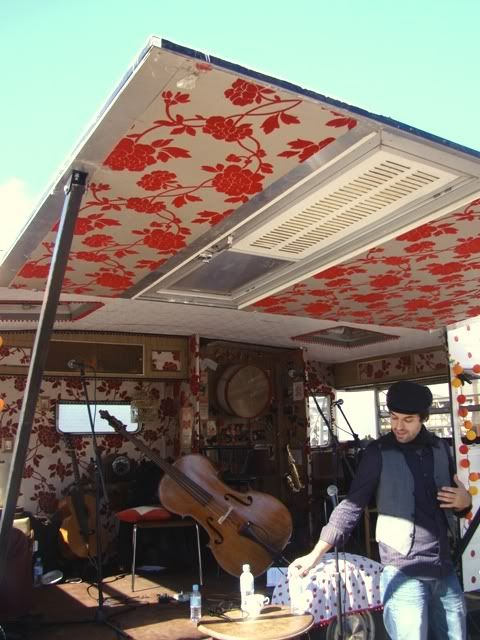 -> The entertainment: a ragtag-ish, random-looking music performers housed in a caravan. How wonderfully kitschy (yet predictable). I just LOVE the Florence Broadhurst-y wallpapers!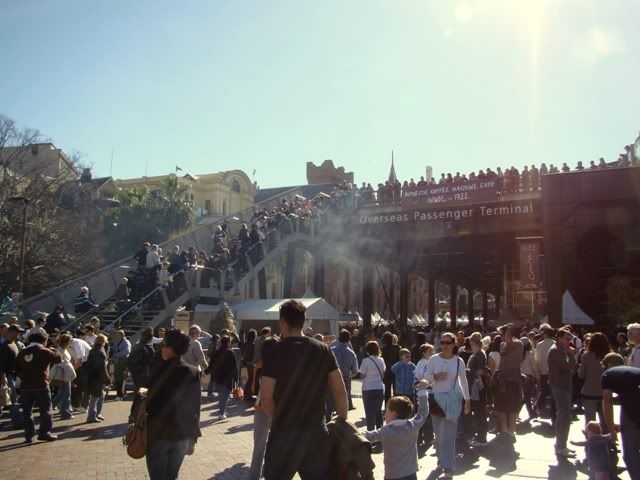 -> Yet another crowd shot. Notice those people going upstairs? No, they're not going to see the free domestic coffee machine expo (as per the sign), they actually climbed the bajillion stairs to see...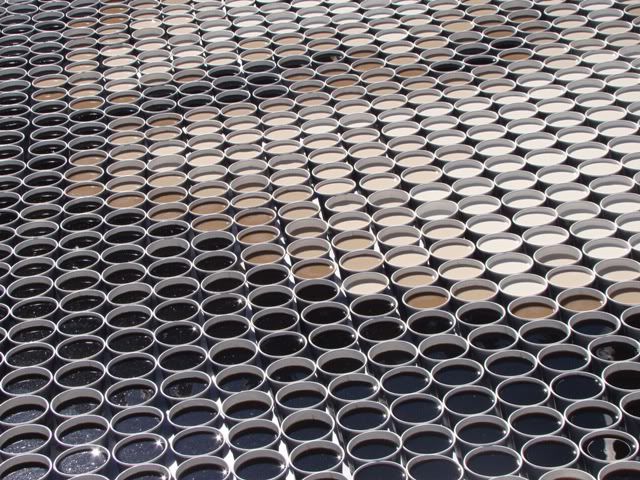 -> ...this. Okay, time to zoom out: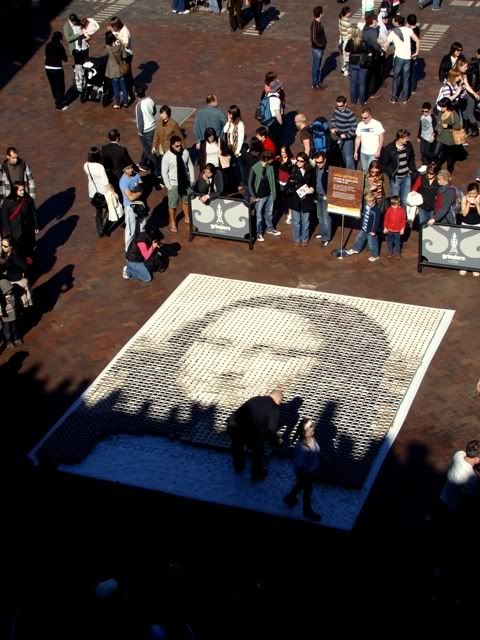 -> Ta-dah! Behold, Da Vinci's
Mona Lisa
constructed entirely from various shades of coffee in cups. I don't know if they did this (or something similar) last year, but I just can't get over how fascinating the people who created this thing are! I don't know how they do it. They don't seem to have any sort of guide etched on the floor. And notice that little girl? YES, she's doing it too! She's actually contributing to the whole effort and she always places the cups in the right positions! I mean, wow!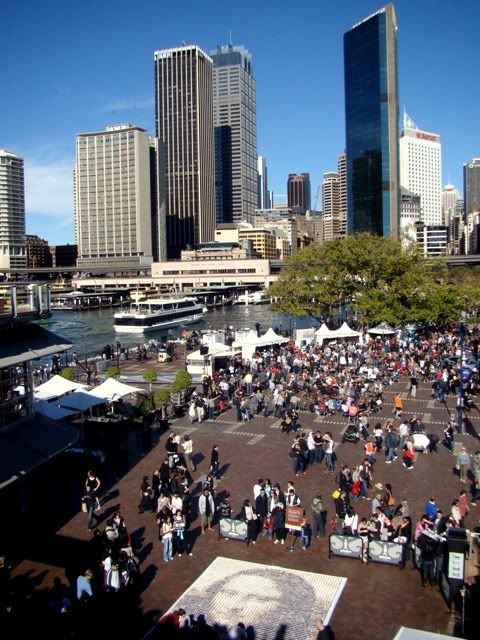 -> Okay - show-off shot. The skyline, the crowd, and the coffee-cup Mona Lisa. Totally Flickr-worthy.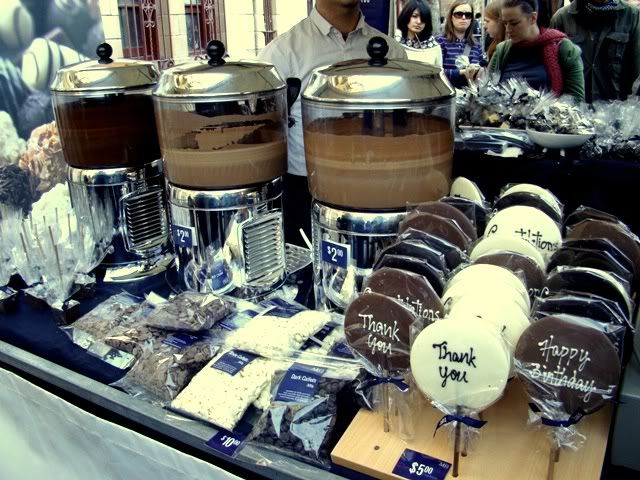 -> Mouthwatering chocolate drinks and chocolate stuff molded in various forms from
I Love My Chocolates
.
-> Yet ANOTHER crowd-shot. If you squint, it somehow looks like a haphazardly-structured
bier garden
somewhere in Vienna or Hanover.
-> Oh my Lord, not another crowd shot.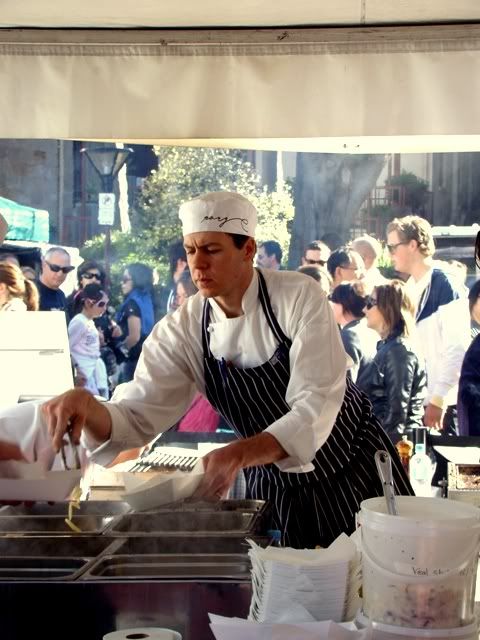 -> *Said in the style of 30 Rock's NBC page Kenneth Parcell* Hey, look everybody, it's
Pony Dining'
s awesome chef,
Damian Heads
whipping up his famous Argentinean-style woodfire-grilled treats! Hi, Damian!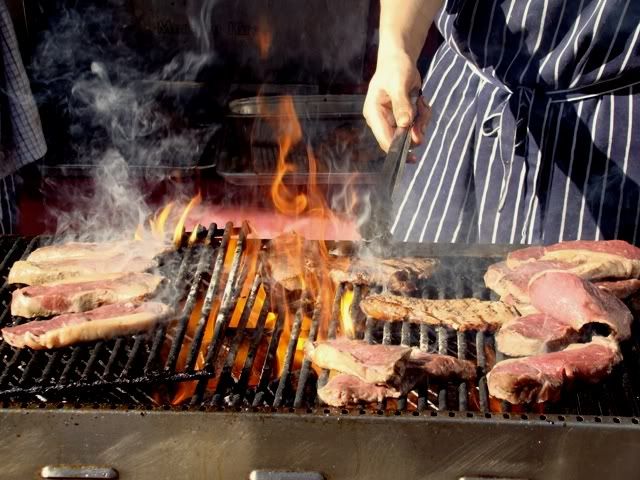 -> Lord help me. I would've gotten two - nay, three orders of whatever this is if it wasn't for the fact that I'd just had dinner at Pony last week. *slurpp*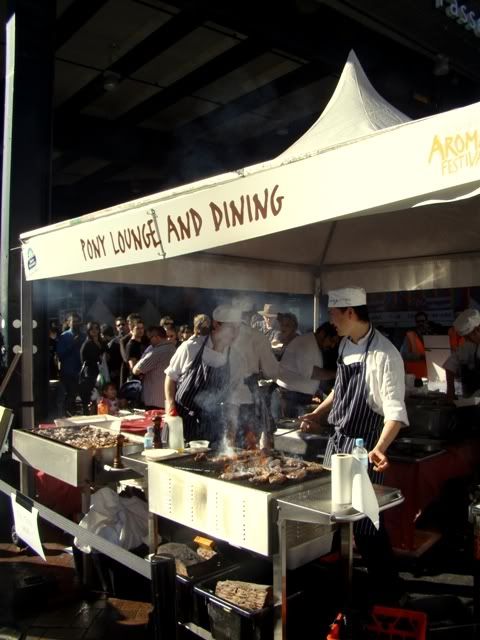 -> Hands down, the most fragrant and aromatic non-chocolate / coffee / tea stall in the whole festival. I heart
Pony Dining
!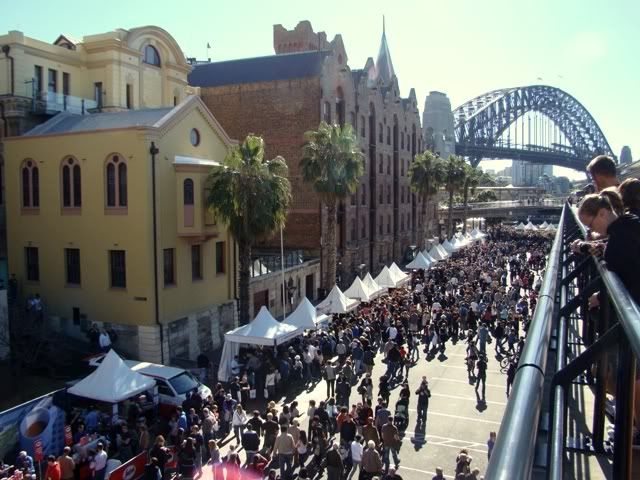 -> Whoops. Can't miss this shot. I love The Rocks. Never get enough of The Rocks. It is one of the prettiest places in the world, IMO.
THE ORIENT
Erique's catchprase: "Aa! Onara suru tsumori datta kedo, unchi ga dechatta!"
(Oops! I meant to fart but poop comes out!) - Japanese
*Is this based on my personal experience, you ask? I'm going to leave it to your imagination!*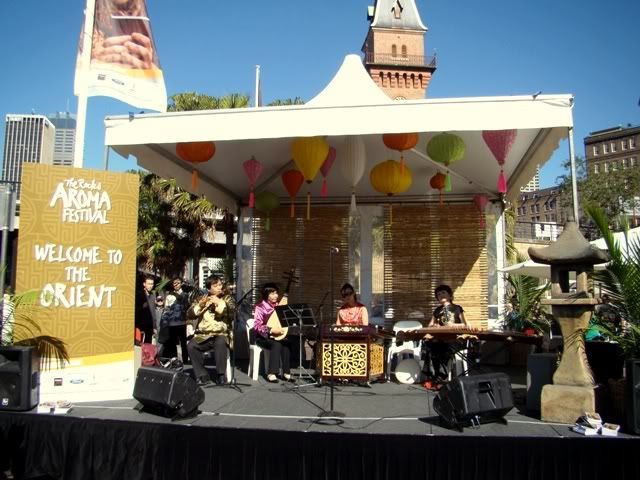 -> This band is AWESOME. They just rock the whole place. The one playing the
Dizi
(Chinese flute) is the ringleader of the band. Before playing each piece, he beautifully introduces the next music piece they're going to play along with a short history and origin of the particular song. He's just fantastic.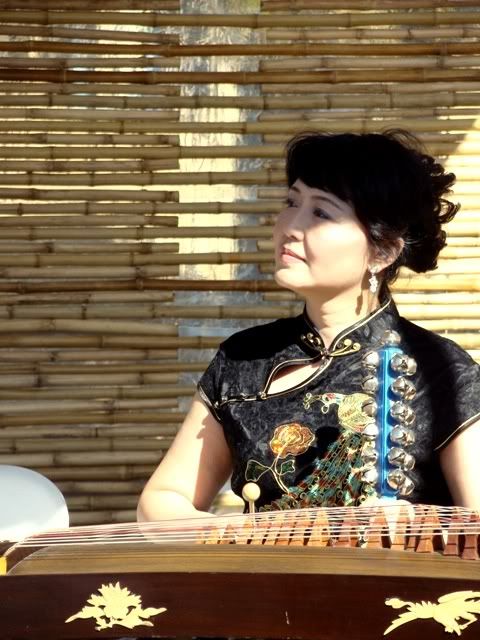 -> This
Guzheng
-plucking auntie is so pretty and mesmerizing. Totally my type.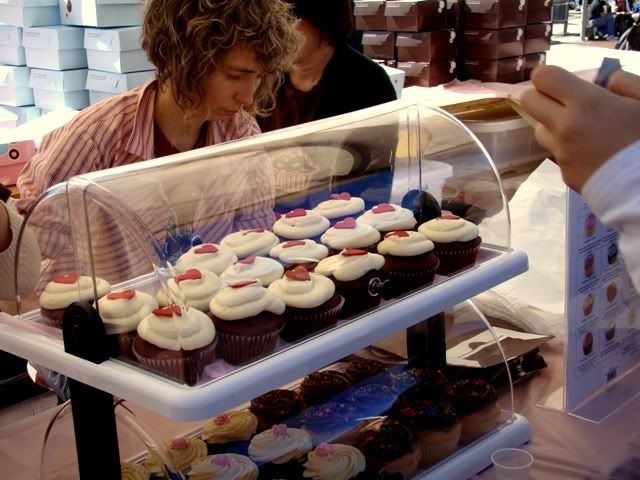 -> Yaay, more cupcakes. These ones are from
The Cupcake Bakery
.
->
The Cupcake Bakery
's piece de resistance - a gigantic frise poodle-like muffin that's not for sale *darn*!!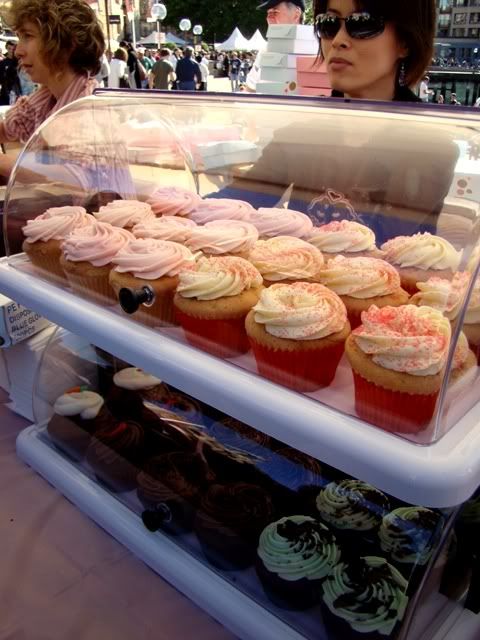 -> More cupcakes from
The Cupcake Bakery
. After looking at that fantabulous gigantic cupcake, these ones look so...muggle-born.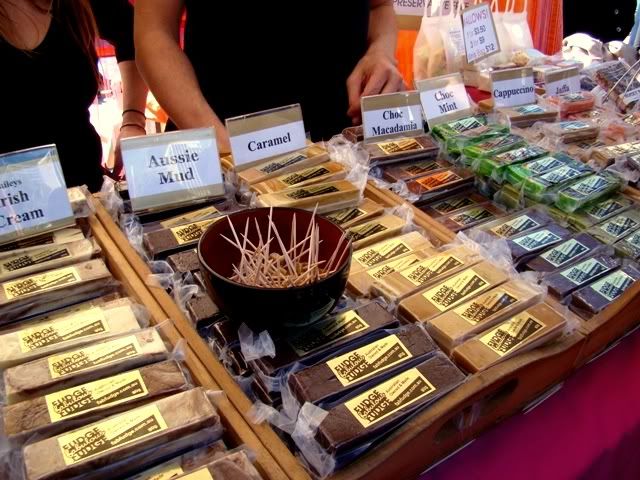 -> Impossibly breathtaking fudges from
Fudge Fabulous Fudge
.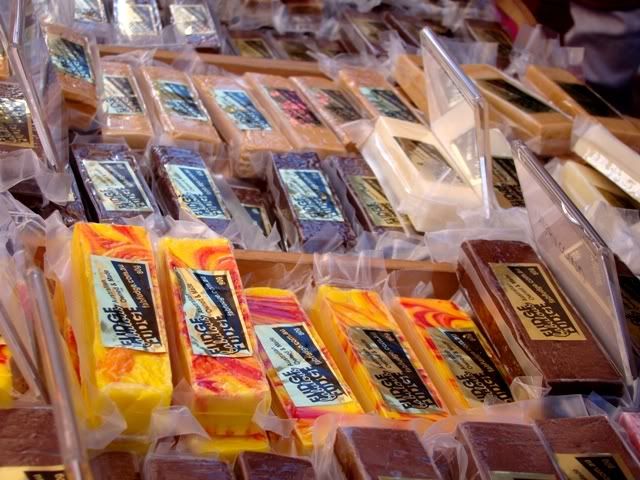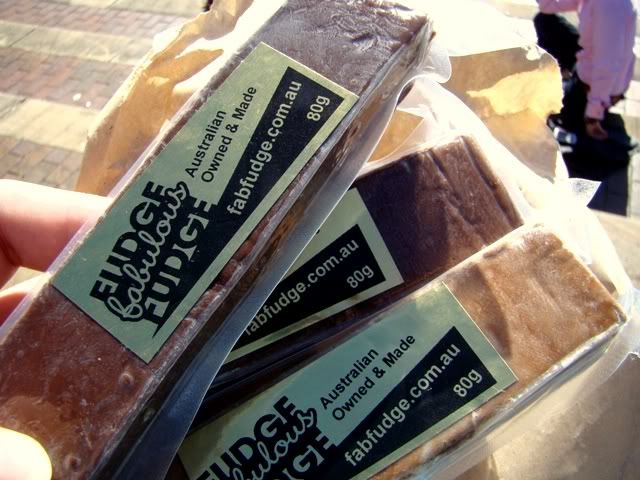 -> Bounty #2:
Chocolate Macadamia, Rum & Raisin
, and my personal favorite:
Baileys Irish Cream fudge
. BTW, I finished 2 of them on the way home. Damn, should've bought 10 instead.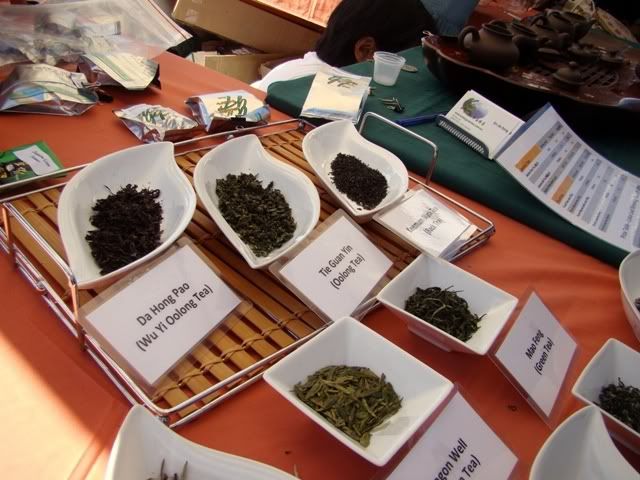 -> Chinese teas from
Valley Green Tea
. My mouth really craved for the
Mao Feng
tea, but unfortunately, I had to restrain myself from drinking too much tea (as per doctor's recommendation)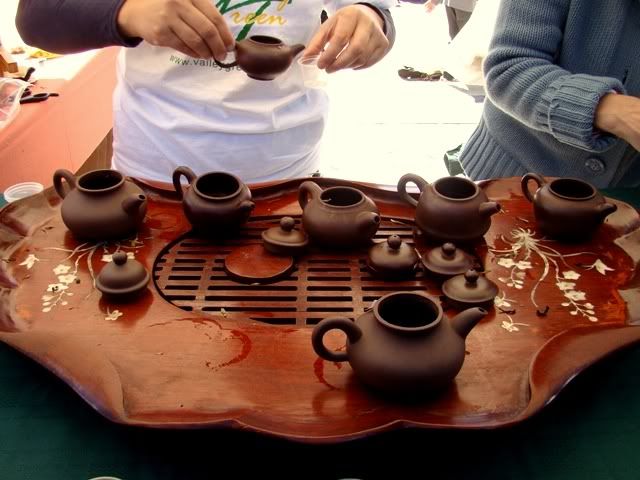 -> I want that tea set! I've always wanted a terracotta tea set - the ones that you can pour tea all over the tiny teapot itself and making it all wet. It looks sooooo good. Why do they do that anyway? What's the significance of that practice? Anyone?
-> Chai tea from
Chai
. I'm kind of obsessed (again) with Chai recently. These days, I always seem to order Chai whenever I'm in a coffee shop (instead of coffee). I'm seriously afraid that I'm becoming a middle-aged hippie.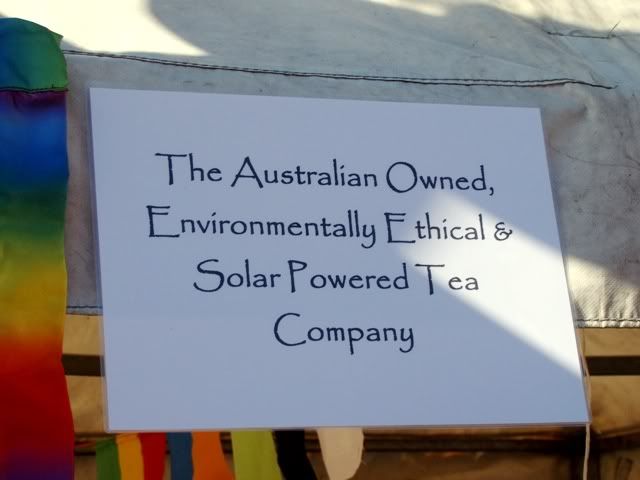 -> Australian-owned, environmentally ethical, AND solar powered? Wow, what more can you want? Truly a hippie company.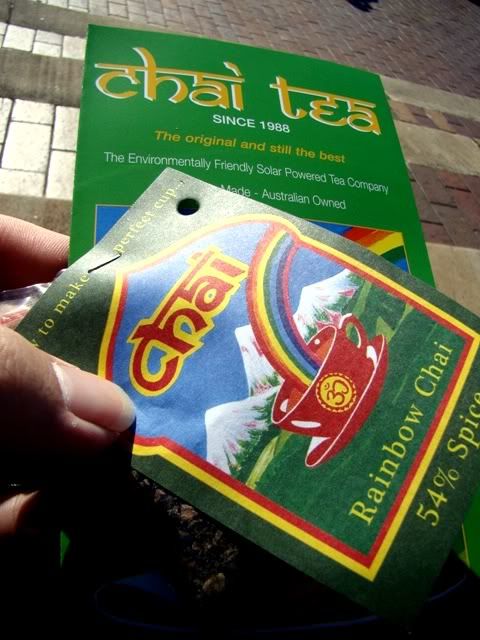 -> Bounty #3:
Rainbow Chai
. Wait - you mean you CAN make Chai latte at home? man alive! I thought Chai is something you have to buy (and no way else) like
Char siu
/
Siu yoke
or
Tonkotsu ramen
! LOL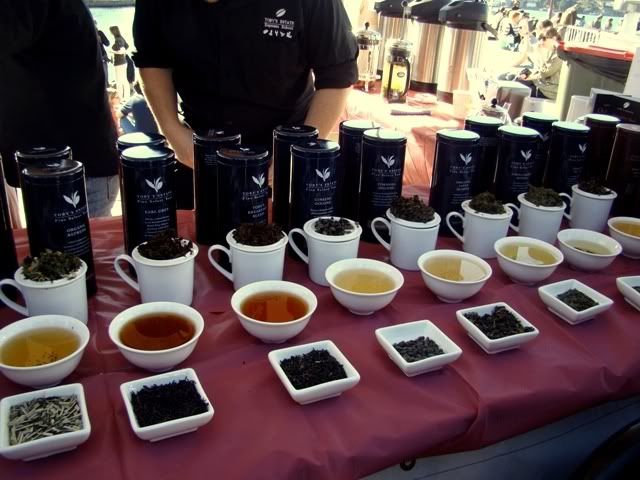 -> Another set of mouthwatering teas from
Toby's Estate Fine Select Teas
. They're a little stingy on samples, though.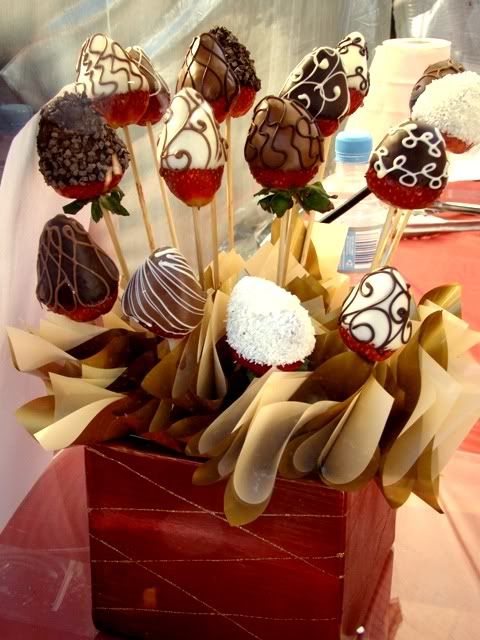 -> Alice-in-wonderland-ish dessert creation from
www.flowerfruits.com.au
-> Damn expensive stuff, people. Those chocolate-covered strawberry skewers are like, 6 bucks each! Worth every penny, though.
-> Definitely the most ooh-and-aah-ed food item in the whole festival. Wonder how much this one costs.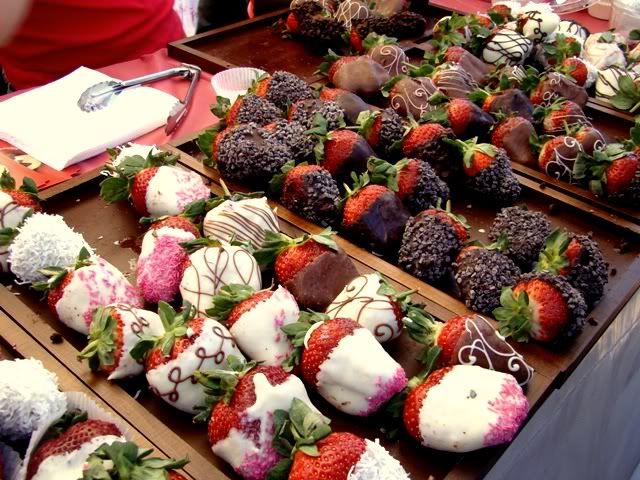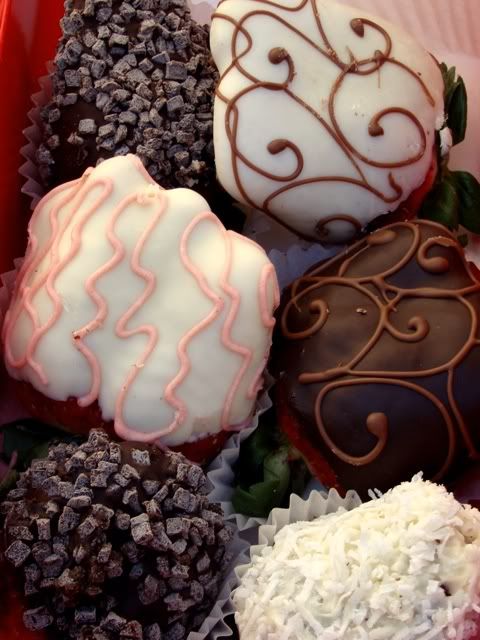 -> Bounty #4: A box of
chocolate-covered strawberries
for 20 bucks. Gonna save it for mummy who's coming to Sydney this week. She'll go nuts over these pretty strawberries. When she goes nuts. she'll shower me with love and attention. Therefore, on her next shopping trip to Castlereagh st, I can tag along and perhaps slip a...oh, I don't know...a little black Taiga leather Vuitton man-clutch so she can pay that together with her shopping items with her nice credit card? (my dad checks my credit card spending but not my mom's)
THE OASIS
Erique's catchphrase: "Yemeğin salçalısı, kadının kalçalısı"
(Food is good with tomato sauce, women is good with its tush) - Turkish
*Hey, I didn't invent the phrase, so feminists, direct your anger somewhere else!*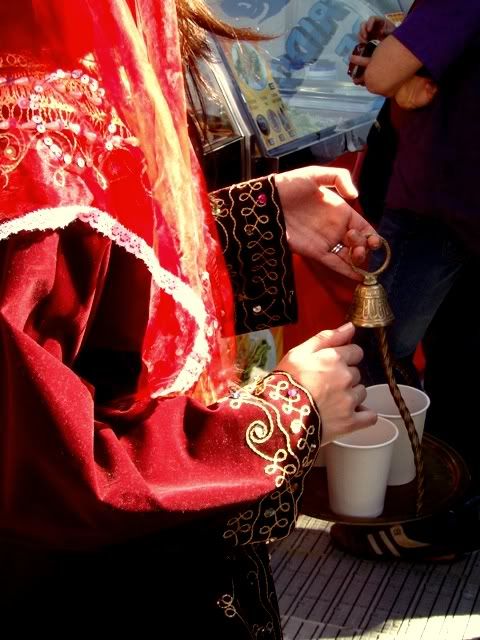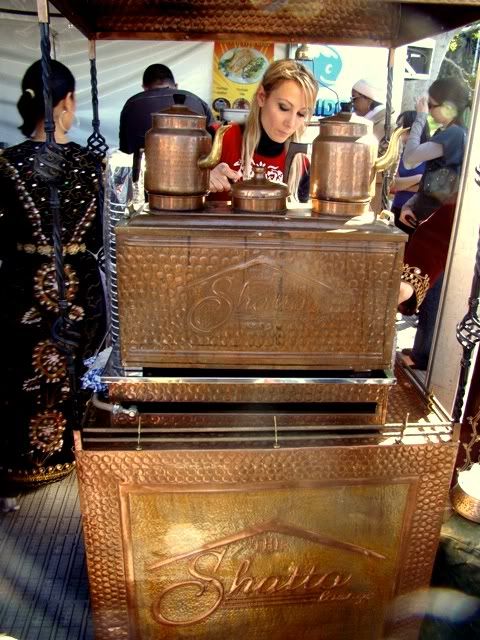 -> Turkish Coffee gizmo. looks complicated, and slightly bigger than your average espresso machine, LOL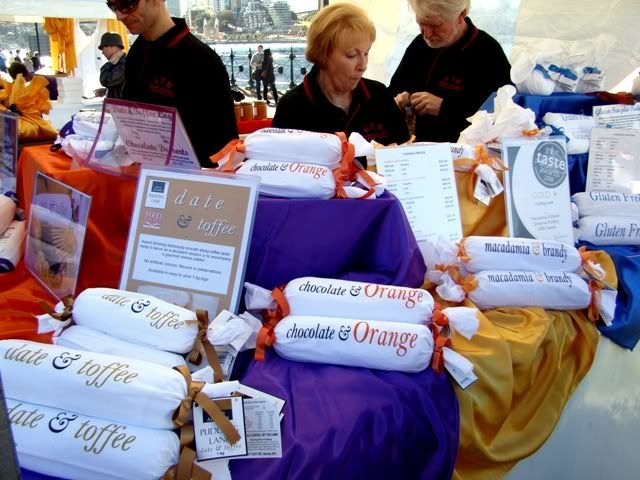 -> No idea what these are. I guess they're some kind of pudding. Anyway, it's from
Gourmet Taste Buds
.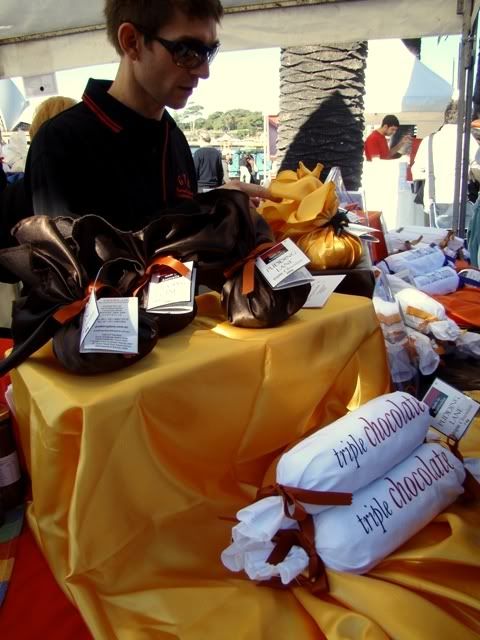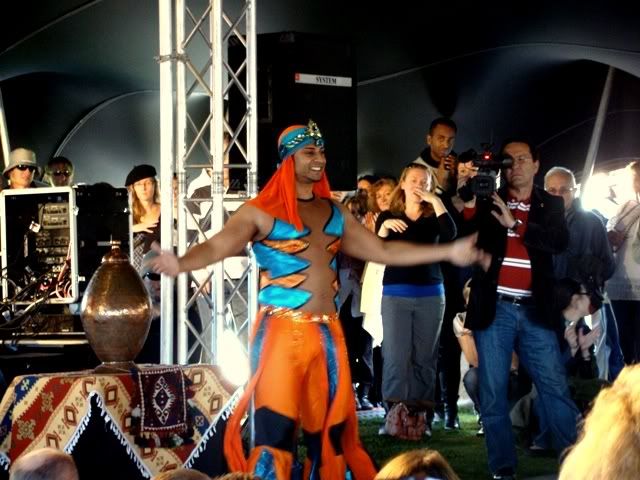 -> The entertainment on The Oasis district - male belly dancer. On close inspection, that is NOT
Akmal Saleh
, unfortunately. Gosh darnit.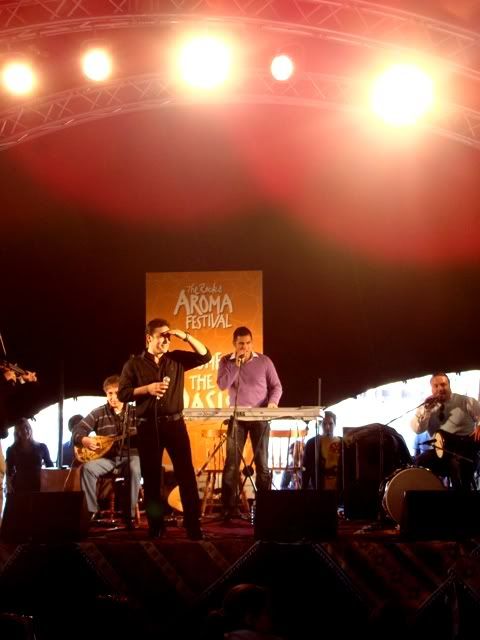 -> Another performer in The Oasis district. Thank god he didn't attempt a rendition of Hadise's "Dum Tek Tek" (those who never watch Eurovision will never understand what I'm talking about)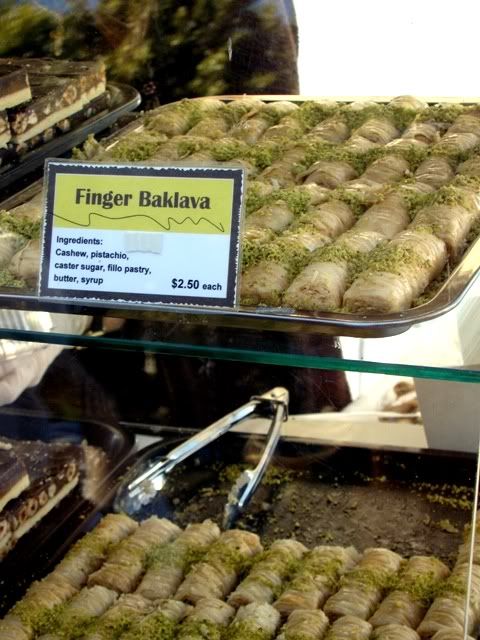 -> Probably the biggest temptation on the festival - sweet pastry drenched with sugar syrup that is the
Baklava
. Considering my family's long history with Diabetics, I need to resist this one - it is, after all, the mother of all sugary treats.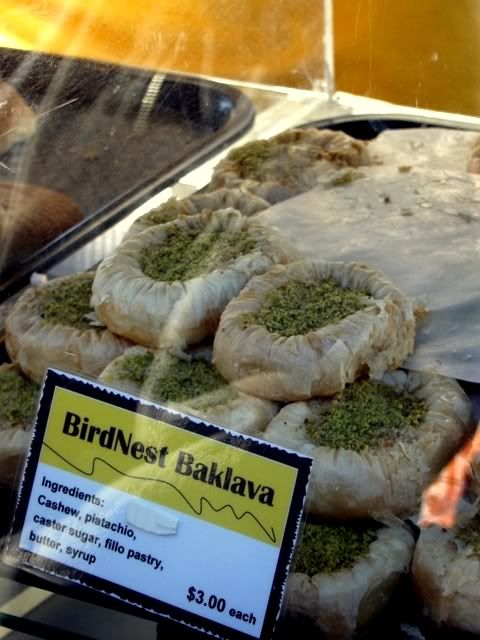 -> ...oh God...not the BIRDNEST Baklava... *EVIL*!!!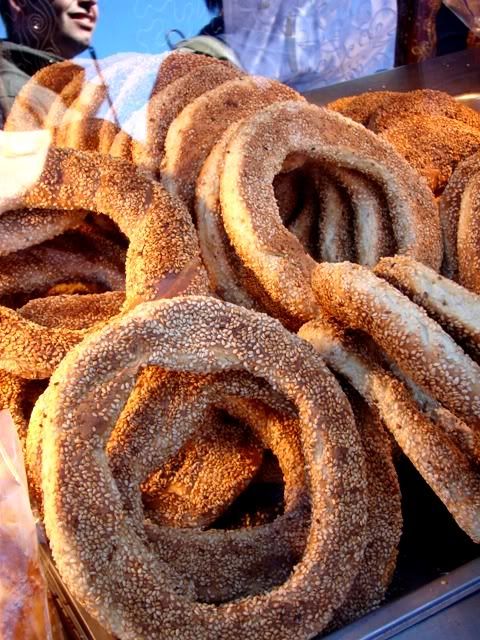 -> A selection of Turkish
pide
and pastries from the
Turkish Coffee House
-> Ah, the
Gozleme
ladies. Reliably found in all festivals, night markets, or any sort of open-air festivities across Sydney regardless of how much or little they have to do with Turkey or the Turkish culture. (I'm not very sure if it's the same group of peddlers or not, though - seeing that all Gozleme stalls I encounter never sport any sort of shop / restaurant identification and simply label their stall "Turkish Gozleme")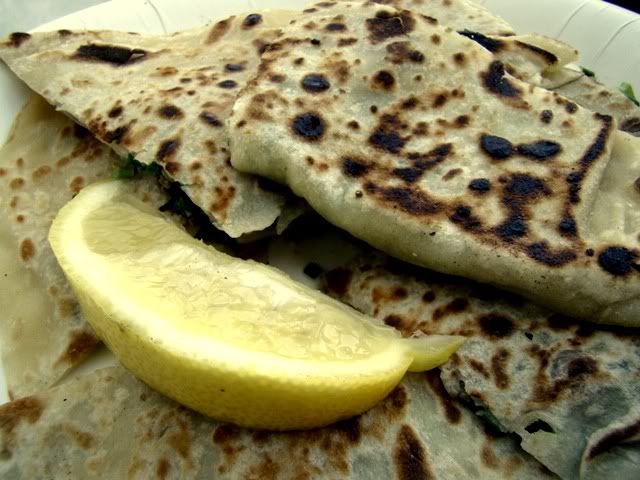 -> Last bounty of the day:
Cheese, spinach & beef Gozleme
. What can I say, I love all things Turkish. Not the prettiest food around, for sure - but it's so addictive and absolutely sumptuous.
-> Definitely not something you see everyday.
Phew! all those photo-captioning really made me hungry!
That's about all from The Rock's Aroma Festival 2009 coverage, proudly presented by eatlikeacow. It has been a great day, everything was so well-organized and the weather couldn't be better. So, final thoughts about the festival: can't complain! I'm really looking forward to next year (but they REALLY have to update their poster, I've seen that same coffee-snorting lady for years and frankly, I'm getting tired of her)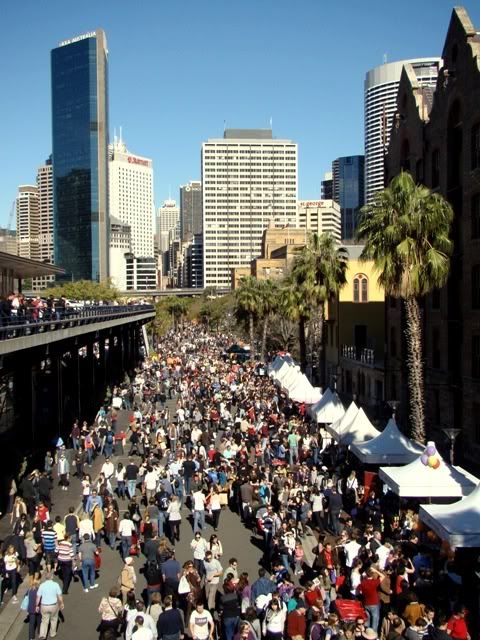 Okay, maybe one more crowd shot and I'm done, I promise!