If one day you wake up from your slumber and think, "hey, you know what I'm feeling like eating? freshly poached wild goose eggs with slow-cooked porcini mushrooms, drizzled with 10-year La Vecchia vinegar and hand-picked Welsh sea salt, dusted with some Périgord Truffle!" - but your fridge only has a pack of Kraft Singles and a can of Red Bull, then you might want to head to SIMON JOHNSON to stock up.

Yessir, grocery shopping has never been more exorbitant with shops like Simon Johnson - perhaps Australia's answer to the likes of Dean & Deluca or Zabar's in NYC. Blame it on the import tax, or the general lack of imported items in a self-sufficient country like Australia, but fine imported foodstuffs are indeed costly in this side of the globe.


The key when visiting Simon Johnson is: RESTRAINT. Even the unwisest of human beings are wise enough not to step into this shop with an empty stomach. You'll end up buying everything - from the tiny tub of French salt (hand-reaped by real French maidens, I'm sure) that cost 20 bucks, to those mouthwatering Spanish family reserve anchovies and foie gras that almost cost as much as pure gold in weight.
Indeed, for you gourmets and gourmands out there, you'll be lucky to walk out of the store spending less than 100 bucks on impulse purchases alone. Anyway, the shop is breathtaking - it's what a gourmet emporium should be. The Pyrmont shop is their first outlet - an old refurbished firehouse beaming with character. The centrepiece - a walk-in temperature-controlled fromagerie (cheese chamber / shop) fantastic enough to be locked in.
Again, restraint is the key. Although you know that resistance is futile when you sample those wonderful Gruyere and Gorgonzola. Kids, leave your credit cards & debit cards at home, just bring 50 bucks in your wallet and STICK TO YOUR SHOPPING LIST - because this place is like the island of temptation. Enjoy yourself but avoid bankruptcy!


Mary Quickes 2.5-Year old Cheddar
(Devon, UK)

-> The reason I came to the shop. I wanted to try a recipe that calls for a small amount of good, aged English Cheddar - but after actually sinking my teeth onto this beauty, I immediately realized that this thing is just too good to be cooked - and this cheese should never be appreciated with anything more than a sliver of water cracker.
Apparently, this particular Cheddar is produced by the famed 450-year old Quickes Family farm in Devon, England - and Simon Johnson stocks this as per Will Studd's advice. Will Studd is, as many of you know, one of the greatest authorities on Cheese in the Southern Hemisphere (I kid you not), and the only ambassador to France's Guilde des Fromagers. He has his own TV shows, award-winning books, etc - to make long things short, he's the Master. The big cheese.
Taste-wise, I absolutely love it. I am by no means a cheese expert (I just started to dabble in cheeses a couple of years ago), but I would describe the taste as crumbly, strong, earthy with a hint of grass. It's absolutely fantastic - no wonder it's considered the Best Cheddar in England.

Rating: 8.5/10




-> Very pretty, no? I actually never had any of these although I've seen them at my friend's wedding (they look so un-food like I thought they're decorations!). This stuff costs an arm and a leg for such a small quantity. Suitable if you're feeling like you've got some extra wads of cash in your pocket and have no idea what to spend it on (uhh, try staple food that actually contributes to your survival and well-being? LOL). It's kind of unessential, and the taste is pretty much imaginable, but look how pretty! This is exactly like sugar swizzle sticks, you know what I mean? Pretty, pricey, but kind of useless.
Rating: 7/10 (taste) 10/10 (appearance!)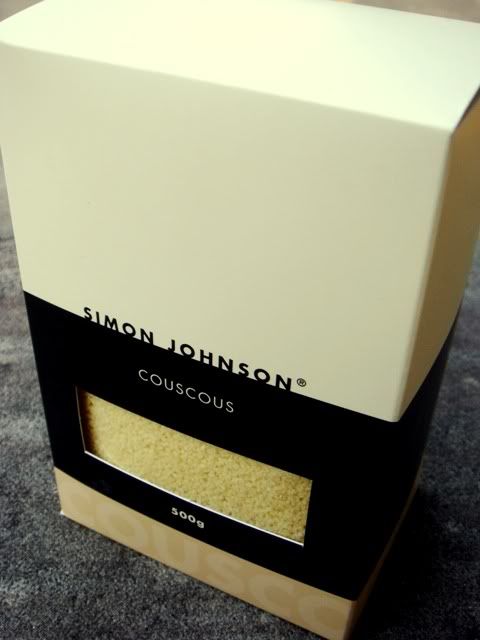 Couscous
(Morocco)
-> At first, I thought that this thing is like, really really cheap in Morocco (they've got loads upon loads of them on Marrakech's souks!) - but my friend who actually lives in Morocco said that good couscous can be expensive. I haven't actually tried this, but I can't wait to!

Check out these sites:
http://www.quickes.co.uk/ (Quickes Cheese)
http://www.cheeseslices.com/ (Will Studd)
http://www.simonjohnson.com/ (Simon Johnson)