I can't believe that it took me close to a year to finally have a meal at this place. It's understandable, really - during its first months of operations, it's almost impossible to get a table straight away due to the hordes of people waiting to be seated. Nowadays, it's still crowded, but if you come at a time which deviates slightly from peak dining hours, you'll get a table quite easily.

This brainchild of the Masuya Group (their fifth establishment after Masuya, Musashi, Makoto City & Chatswood) is specializing in bentou and teishoku (set-meal) type of dishes. The whole experience dining in this place can be summed up as "glorified, pricey-ish obentous with freakishly saccharine service"

However, it can't be denied that any restaurant belonging to Masuya Group has pretty high standards. The ingredients are always very fresh, the food impeccably prepared, and prices are quite tolerable. Miso has a killer take-away menu, too (I especially love the look of their "Shinkansen bentou" - packed in a container that emulates the real thing sold at Japan's train stations (ekiben), and priced about the same, too (around 1000 yen / 13 bucks). Nice!

I have yet to try their famous tonkatsu (especially the miso-katsu). The reason being that I need sufficient mental preparations to try their hyped-up tonkatsu, remembering that tonkatsu is pretty much on my top 3 favorite dishes of all time.



-> A pot of tea, and a copy of Newsweek magazine featuring a person I freaking like and totally voted for, Indonesian President Yudhoyono on the cover. (lanjutkan!) <- his presidential campaign catchphrase, translated as "continue! (one more term!)"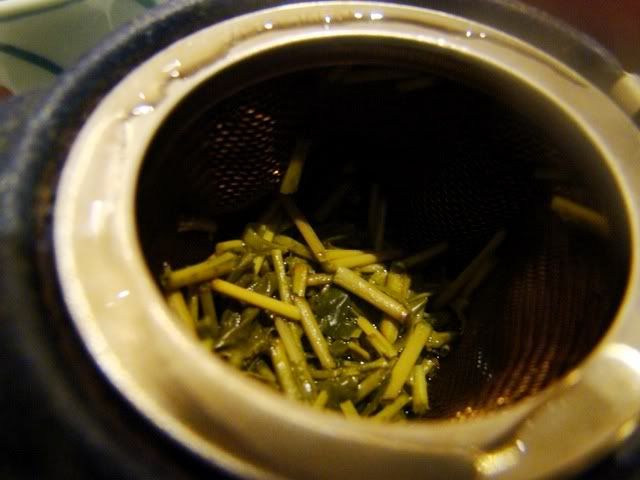 Anywhoo, kukicha is a very nice green tea made from a blend of the stalks, stems, and pale tips of green tea - creating a wonderfully subtle yet tannic flavor. It's kind of lighter than normal
sencha
, but with a creamy edge to it.
Rating: 7.5/10

-> Looks really awesome indeed. I was immediately smitten. Look at that bentou lacquerware, I want to buy one just like that!! The rice was perfect, and it's scattered with
ikura
(salmon roe) and salmon flakes.
Okay, let's delve into the contents:
-> I adore gratins. Especially when the Japanese made them. Perhaps some purists would argue that the French are still the experts when it comes to gratins, but Japanese gratins are very edgy and it's always a surprise what lies beneath that cheesy-licious crust. This one contains
kanikama
, fish, broccoli, and tomatoes in cream sauce.
Rating: 7.5/10

-> Contains (in ascending order of yummy-ness):
tofu steak, seedless grapes, stewed broccoli with mayonnaise, kamaboko
(fish cake),
nasu dengaku
(stewed eggplant with sweet miso),
teriyaki salmon
,
dashimaki tamago
(rolled omelette), and
tsukune
(yakitori-style chicken meatball - YUM YUM)
-> Really fresh - as expected from Masuya Group...
-> The piece de resistance, and perhaps, the reason why this dish is called "Hokkaido bentou" (Tokyoites mostly go to Hokkaido to eat crabs, LOL) I don't usually go crazy about soft shell crabs, but this one is a yum-yum.
Rating: 8/10