One day, my mom (who's visiting me from the Big Durian, this time sans her annoying tai-tai friends) and I went shopping in Paddington. It's her second visit in three months (thanks for the headache, mom).

After mere 3 hours of wandering around swiping (her) plastic cards in exchage of goodies and items to fill the massive voids in our lives, mom looked fatigued as she started to drag her "shopping shoes" (which are Sergio Rossi flats, FYI - she said that she can last for hours walking in those. BTW she also has "shopping tops" and "shopping jeans/pants" which are essentially outfits that are super comfortable yet stylish enough, and can be taken off within seconds without ruining her hair too much in fitting rooms, thus are suitable for strenuous, full-forced shopping days) along the pavement.

She said that she's tired but we're just halfway through the shopping area, and wondered if we should call it a day. Right then, I know just the thing that we good mother-loving sons should do in that situation - take her to Max Brenner.

Within seconds after sipping chocolate and munching crepes, my mom felt utterly refreshed, pumped, and ready for round two of plastic-swiping (The sugar was enough to sustain her for another 3 hours of fun!). 'Twas a remarkable day, even though she almost got a salesperson fired at a certain shop with a big horse in it (you should know which one if you're a Sydneysider)!



-> A staple drink. What I love about this is that this is actually THE only chocolate drink that is actually thirst-quenching without much of that unpleasant aftertaste that makes you crave for a glass of water.
Rating: 8.5/10
Look at that wonderful, wonderful machine. Kind of willy wonka-ish, no? I bet half of you would just dunk your hand inside that and lick the chocolate off your palm. The other half of you would just drown your heads and suck the machine dry.
Anyway, while most ladies out there probably have weaknesses towards chocolate, my mom is quite remarkable in the sense that the only word she uttered when looking at that machine was "Ew". Yup, my mother is completely chocolate-resistant. She's probably one of the first women in our family who politely reminded my dad not to waste money on bringing her chocolates from his occasional overseas business trips in the early nineties and bring her the coveted Moschino Chocolate Bag instead. Remember the early nineties, when everybody owns at least one Moschino item? Anyway, the said bag is now a rare, vintage item - but my mom stupidly donated the said bag, in near-mint condition, to our church several years ago!! (all of her bags, vintage or not, are near-mint - it isn't because she takes good care of them, it's because usually, after using them several times, she gets a new one, and the former one would be retired into the depths of her closet and remain untouched for decades. Too bad she's not tech-savvy enough to set up an eBay store, she can make a fortune out of those old bags).
Nowadays, every valentine's day, she always urge members of our family not to waste money on buying her chocolates - she doesn't care much for them AND it's bad for us because our family has a long history of diabetes. Instead, she politely (always, always politely) urges us to waste even MORE money by getting her the kind of chocolates she would enjoy, such as the Mulberry dark chocolate bayswater or the ULTIMATE 'white chocolate bar': the white quilted Chanel 2.55.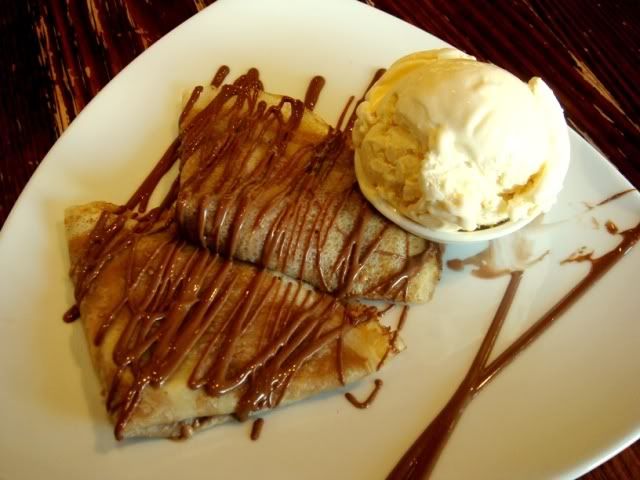 Banana Praline Crepe
-> I'm not even going to talk about this. It's heaven on a piece of triangular plate.
Rating: 10/10